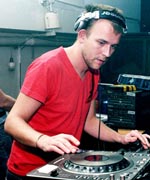 international news _ 19th February, 2007
Sander Kleinenberg Quits His Millionaire Mansion
Text by Jonty Skrufff (Skrufff.com)
Dutch website Poptical.nl reported that Sander Kleinenburg is selling his canalside Amsterdam home this week, and published a highly detailed article which poked fun at the superstar DJ's interior decoration tastes.

"From what I have seen of his house, apple green and dark grey are Sander's favourite colours. You will walk, eat and sleep in rooms that are a nicely balanced combination of light apple green and dark grey set off by a basis of stark white to enhance the contrast," the Dutch writer said.

"But why is Sander Kleinenberg leaving this amazing house? Is it because he is fed up with the green and grey thing?"

The article is unlikely to irritate Kleinenberg', who's consistently been one of dance culture's most outspoken DJs, most recently in an interview with DJ magazine last year.

"I'm a bit depressed today," the progressive house star told DJ's Terry Church, "I've spent all day listening to new tunes that people have sent me, and 90% of them are shite. When electronic music gets bad, it gets really bad," he complained.

In the same article, he also poked fun at stuck-in-a-rut rival big name DJs, when enthusing about his latest trick of introducing VJing alongside his DJing.

"There are too many DJs who have made it, and then they stopped experimenting or trying new things - they just go through the motions and do it for the money," said Sander, "That's bullshit. I don't have ten houses or a Porsche – all the money I've earned I have put back into my label."

Poptical.nl said Sander's house is available for 1 million euros, and suggested it could be a bargain for hardcore fans.

"You can even experience what it is to 'be' Sander," they suggested, "Sleep in his bed, eat out of his fridge, freshen up in his luxurious bathroom, feel the same sunbeams on the roof terrace or feel and breathe the secret atmosphere of the 'soundproofed' room where Sander has created his latest dance hits."

Interview : Sander Kleinenberg Interview In Tokyo (23/10/2004)
Party Report : RENAISSANCE feat.SANDER KLEINENBERG (23/10/2004)