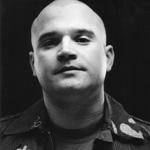 international news _ 9th February, 2007
Louis Osbourne's High Price Of Fame
Text by Jonty Skrufff (Skrufff.com)
Electro-tech DJ Louis Osbourne chatted to Skrufff this week about the impact of being the son of celebrity rocker Ozzy Osbourne and revealed that the reality TV show the Osbournes prompted 'a massive invasion of privacy'.

"My Mum and my Father are divorced and she leads a normal very humble lifestyle back in Birmingham and when the show began she started to get chased by the paparazzi, and they started staking out the house with cameras and cars," he recalled, "They wanted all these stories on his ex-wife and it put so much pressure on a lot of people."

"I can't deny there was some extra work off the back of it but as it turned out, not a lot of work of the type I really wanted. I started getting bookings in places for the wrong reasons," he continued.

"I'd arrive at gigs and see pictures of the Osbournes' house on banners and flyers which was really just a bit naff. Or I'd go to some clubs and see posters with Paul Van Dyk and his picture next to his name, or whoever, whereas for me there'd be a picture of my Dad, then my name," he added.

The nowadays Dublin based DJ came up the slow way spinning at warehouse parties in Birmingham and later a DJ residency at Café Mambo in Ibiza, where he earned £100 a week.

"To be honest, I'm not really comfortable with the fame side but someone in my position has too deal with it. The fact of the matter is, I haven't gone into this DJing career for the wrong reasons, I've done it for my absolute love of the music and the scene," he said.

"I'm not driven to be like anybody else, the most important thing is to be appreciated for what you do. Success is nice but there are different pressures whatever level you're at. I'd just like to enjoy my lifestyle and become secure with it, like anybody."

His dismissive take on mainstream face and fortune matched that of LCD Soundsystem mainman James Murphy who passed up the opportunity to become a staff writer on the first series of TV sitcom Seinfeld, in favour of playing guitar and smoking pot. The nowadays successful electro-disco star revealed that he didn't even realize his TV chance until ten years later when he was sleeping on an inflatable mattress on the floor of his office, broke.

"I was homeless and penniless, so I was like 'Wow, so instead of having no money at all, I could have had 40 million dollars and maybe graduated to Associate Producer. But my consolation was if I'd done it I would have been a horrible c**t," he told London magazine Stool Pigeon.

"I would have been living in LA, I would have been believing the hype- hard. Because I never would have sunk to the bottom of failure, which I think made me feel like a human."

News : Ozzy Osbourne's Son- I Haven't Retired From DJing!(10/30/2006)