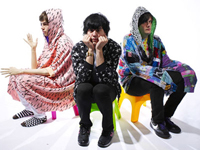 international news _ 7th February, 2007
New Rave, New Backlash
Text by Jonty Skrufff (Skrufff.com)
The British media's much anticipated backlash against new rave kicked off this week with both the Observer newspaper and NME jumping on the new Klaxons album to write the first obituaries of their previously much hyped next big thing genre.

"Burying new rave a year after they started it, Klaxons and white-hot producer James Ford have, instead, made a deliriously insistent pop record whose antecedents include Bowie and Blur," Observer (and ex-NME) journo Kitty Empire declared in an article headlined 'New rave is dead; long live the Klaxons'.

'Although the glare of glow-sticks may have lit this three-piece's way to a deal with Polydor, they might live to regret the new rave tag," she predicted.

NME, meanwhile, went further claiming new rave 'has become little more than a serotonin drought in the brains of its disciples . . . a fucking albatross around the neck of the most thrilling and visionary band Britain's had in more than a decade' (ie the Klaxons).

News : New Year, Nu Rave, New Attitude (11/01/2007)