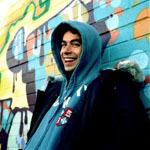 international news _ 1st February, 2007
Ghetto-tech Star Commits Suicide
Text by Jonty Skrufff (Skrufff.com)
Detroit ghetto-tech producer Disco D – real name David Shayman was found dead this week, after reportedly committing suicide.

As well as working with mainstream stars 50 Cent and Britney Spear's soon to be ex husband Kevin Federline, the 26 year old star credited with coining the term ghetto-tech, releasing A Night at the Booty Bar Volume 1 mix on Tommy Boy in 2003. More recently he started championing Brazil's baile funk sound.

London based PR Jonas Stone from EPM told Skrufff he was shocked by the tragic news.

"We were only just discussing future gigs and projects with Dave at the weekend and he seemed upbeat and positive, we're still trying to get our heads around it," said Jonas.

"We were hanging out at last year's Sonar where he played one of the closing sets and he was really hyped about the tracks he had been making with Brazilian hip hop crews and all the various projects he had going on. This is just a million miles away from that. The Booty flag is at half mast."

Press reports linked his suicide to bipolar disorder, a condition Disco D discussed in interviews last year.

"It got to the point where I tried to kill myself. It was bad," he told Urb magazine in March, and was even more prescient in an interview a Canadian newspaper in April 2006.

"I'm bipolar, I tried to commit suicide twice, like, I'm not scared of anything, know what I'm sayin'?" he told the Montreal Mirror.

"I don't give a fuck, dude—to me, life's a big video game," he added.

(DJ) Simon, told Skrufff the pair were hanging out together last week in his Washington DC flat and said Dave had seemed 'very down'.

"He was filling me in about everything that has happened with him in the past year or so & how his motivation & creativity were lost and his struggle to regain it. He recently moved to Washington to get his head straight, to find some normality in his life. He seemed really bummed out about everything that was going on, but glad he was doing something about it and very grateful to be in good company," said Simon.

"I know times were tough, but I didn't see that coming, I'm still in shock," he added.

Sam Valenti from Detroit record label Ghostly International, who worked closely with Disco D, paid tribute.

"Dave believed that sharing one's own problems and being open about his mental health was a way to help others," he said, "His courage, unrivaled passion, and his consistent dedication to his craft will never be forgotten."

"Dave's parents, Debbie and Jim, are asking that in lieu of flowers or gift, donations can be made to the Neutral Zone (http://www.neutral-zone.org ), an Ann Arbor teen center that offers many programs including some related to music and electronic music production." DJ Simon added.