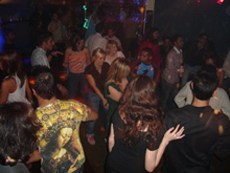 international news _ 27th February, 2006
Bahrain Club Chief Brushes Off Terror Alert
Text by Jonty Skrufff (Skrufff.com)
US and Australian authorities both urged travellers to Bahrain to be on maximum alert against terror attacks this week, citing intelligence reports that assassins are planning imminent atrocities.

"These attacks could occur at any time and could be directed against any locations known to be frequented by foreigners," Australia's Department Of Foreign Affairs said in an official travel warning. "We advise you to exercise a high degree of caution in Bahrain because of the high threat of terrorist attack."

Local club boss, Karim Miknas who owns three clubs as well international DJ haunt Likwid was less alarmed, however, telling Skrufff such warnings have become commonplace in recent years adding, 'that's not to say it's unfounded or not serious but one does need to understand the reality on the ground."

Karim, who shortly hosts a three day electronic music festival at Likwid headlined by Trevor Rockliffe and Luke Solomon, pointed out that all his clubs already operate extremely tight security regimes, with vigilance a top priority whatever the official threat status.

"We search absolutely everyone that comes into the club, even the staff, managers and security guards as well as doing daily, weekly and monthly inspections of all premises," he explained.

"One of our other clubs JJ's is the only spot with windows and we've put bomb blast proof film on all the windows, as required to by the RAF police and the US shore patrol office. We work closely with both organisations and it's from them that we get the first heads up on any real warnings before they're even made public."

"Just last week after watching the video of British soldiers roughing up those kids in Iraq, I issued a circular to all our venues to keep in mind that sensitivities might be inflamed and to be extra vigilant so as to avoid fights and we also have CC TV which we are in the process of upgrading," he continued.

"So we try to be as careful as possible. Then again, as we've seen in London, Madrid, Iraq and Israel, if someone is determined to blow themselves up no level of security is going to really stop them. So that's something everyone lives with I think everywhere in the world these days."

Dubai club journalist Kennedy Stephenson, who publishes United Arab Emirates dance magazine Remix disagreed, however, revealing that in Dubai, clubs are quite different.

"There are no searches at any clubs, none," Kennedy told Skrufff. "But that's because there are CID- undercover police- everywhere in the UAE. If something happens in this place I would be very surprised, you do feel very safe here."

"Generally people don't hear or care about these types of threats in Dubai. I go out regularly and you don't sense any fear. How can anyone be sure they're genuine warnings when we're being lied to on a daily basis from the same sources who issued the warnings?" he added.