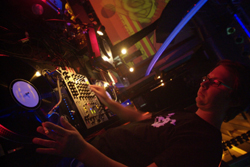 international news _ 27th February, 2006
Sasse Stays Sweet About Swedes
Text by Jonty Skrufff (Skrufff.com)
Fast-rising Finnish producer Sasse, who's headlining Nodisko's first big party in Brixton this weekend, told Skrufff he's sanguine about performing in both London and Brixton in particular.

"I used to visit London regularly in the early 90s to buy records and go clubbing and we'd often go to places in Brixton, it was pretty rough if I remember rightly, so let's see how it goes this time: ILm all excited," said Sasse.

"I love London for its versatility of music and culture, but I don't feel any extra pressure to perform there, I don't feel I have to do anything different than anywhere else; as long as I rock the place that is," he added.

The Berlin based electro-disco star (also known as Freestyle Man) is currently riding high off the back of his superb new single Losing Touch, a track he co-produced with fellow expat and Finn Kiki, who he agreed shares certain characteristics common to their homeland.

"We both share a similar sense of humour and appreciation of dry sarcasm and even though we've both lived in Germany for more than six years I don't think we've become any more German, not me anyway," he said. "And we definitely still have that special Finnish Tundra mentality of sitting quietly in a corner drinking vodka and not really talking to anyone; I love it," he laughed.

Sasse also stressed Finnish people are different from their Scandinavian neighbours in Sweden though stressed 'for the Swedes I can't say anything good, I mean I can't say anything in general," he continued.

"We have a good love-hate relationship and I think the Swedes are good at what they are doing," he added.

Sasse headlines Nodisko @Jamm (Brixton Road) on Saturday February 25 alongside Freaks, Francisco, Zak Frost and Magic Jase.