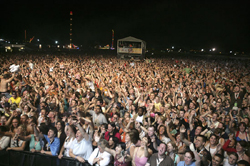 international news _ 27th February, 2006
Creamfields Flies Away
Text by Jonty Skrufff (Skrufff.com)
Liverpool dance festival Creamfields announced this week that they're leaving their usual location of Old Speke Airport after seven years and moving to a greenfield site in the heart of the Cheshire countryside.

Event organiser James Barton said they're currently in discussion with licensing authorities and police to host this year's event at the Daresbury estate in the borough of Halton, close to Liverpool.

"Creamfields is an internationally acclaimed event and over the last seven years has made a huge contribution to Liverpool's cultural renaissance," said James announcing the move, "A successful Creamfields will help promote Halton and demonstrate their willingness to deliver a major cultural event."

Last year's festival attracted 40,000 revellers to watch DJs and bands including Faithless and Basement Jaxx, both of whom told Skrufff last year that they particularly enjoyed the event.

"I love the camaraderie you get at festivals like Creamfields, I absolutely love it. You have to realize that I'm on and off a bloody tour bus all the time, and it's brilliant hanging out with people there. You feel like you are actually part of something, which is the whole point of dance music," said Sister Bliss from Faithless.

"I love Liverpool and I love the people there so it's always good to visit that area and have a party," Basement Jaxx' Felix agreed.

"People are definitely more up for it and less uptight. I prefer people from up north in general," he added, "People in London are a bit stuck up, they all think they're cool and are less prepared to have a good time."

Creamfields' new proposed home at Daresbury Estate is close to the birthplace of 19th century author Charles Lutwidge Dodgson, who according to the local council's website would have been well familiar with the still thriving village pub 'The Ring o'Bells' during his childhood in the 1830s. Dodgson later changed his name to Lewis Caroll, going on to write Alice in Wonderland.