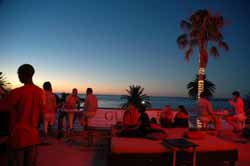 international news _ 20th February, 2006
Cape Town Club Tour Targets Ibiza
Text by Jonty Skrufff (Skrufff.com)
Tom Neville, Mark Knight, Luke Ashworth and Paulo Mojo are amongst DJs headlining South Africa's first 'Global Breakthrough Cape Town Club Town' next month, which event organiser Jamie Joseph said this week is being staged to put South Africa on the clubbing holiday destination map.
"Cape Town as a clubbing location is perfect, though the flights are more expensive than Ibiza, it's incredibly cheap and over ten days you'll spend far less money," she told Skrufff.
"What we're doing with Global Breakthrough is staging seven events spread over ten days and we're really trying to emphasise the outdoor locations; the boat party, beach party and the villa party."
Resolutely upbeat about Cape Town's potential, Jamie added that helicopter trips and sand-boarding are all available extremely cheaply with great white sharks an added bonus rather than threat.
"There are sharks, sure and I wouldn't recommend going for long swims, but the water's not that warm either so no-one's going to bitten by a shark as they're not going to be swimming a kilometre out," she suggested. "It's a question of whether you want to avoid them or play with them. You can go shark diving at a place called Langebann half an hour away up the coast and funnily enough some of the clubbers coming have already asked about that."
She also insisted South Africa's reputation for crime is undeserved, stressing "as long as you don't go to Jo'Burg, it's fine. There's no sense of feeling unsafe in the beach areas, you're protected and you'll never see the bad areas anyway. Having said that, it's not a place to walk around dripping gold and diamond jewellery, but you wouldn't do that in Brixton either. Jo'burg's pretty bad though," she added.
Global Breakthrough Cape Town Club Town takes place between the 9th an 19th March.