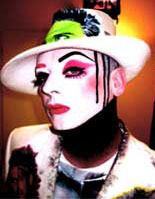 international news _ 20th February, 2006
Closed Door Policy @ Boy George Vs Amanda Lepore
Text by Jonty Skrufff (Skrufff.com)
Amanda Lepore, Boy George and the Kitsune DJs will all be performing at their hugely fashionable Hoxton club this Saturday night, promoter/ resident Colin Toogood told Skrufff this week, though he stressed admission will be strictly limited to regulars and stylish types.
"The door policy is essentially a closed one, you will need to know what's going on at the venue and not look like a (pissed-up) random punter,' said Colin.
"We only want people inside that really want to be there and know what to expect-that way we guarantee a good crowd of like minded people and a great party atmosphere."
The sure-to-be road-blocked party kicks off at 9pm just hours after Boy George unveils his new fashion collection B Rude at the close of London Fashion Week, though Colin stressed admission will be based primarily on attitude.
"There's not a dress code as such but you'll do your chances of getting in no harm at all by making a decent effort," Colin advised, "Certainly the bad shirt brigade that wander the streets of Shoreditch on a Saturday night are not that likely to get near the door, never mind through it."
"And inside, I think there's gonna be some serious tranny/transsexual competition," he predicted, "I hope that our regular trannies are going to see the visit of Lepore as a challenge. It'll be like a transatlantic tranny beauty pageant."
Boy George's appearance comes three weeks before he's due to return to New York to fight charges of cocaine possession, which a press spokesmen suggested this week should be a formality.
"The case against him in New York is collapsing," the spokesman told the Sunday Times, "Otherwise the Americans wouldn't have allowed him to leave the country."