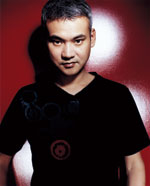 international news _ 20th February, 2006
Satoshi Saws Through Miami
Text by Nick Lawrence (HigherFrequency)
Five years ago the Japanese ex-pat Satoshi Tomiie founded a little label in his adopted home of New York city and decided to name it Saw Recordings. Over these five years the label has been responsible for bringing us a myriad of classic progressive house tunes from not only the label's founder but also many of the big names like Stephane K, Gabriel & Dresden, Cass, Nathan Fake, Chab, Meat Katie and Lexicon Avenue just to name a few.
To celebrate this auspicious fifth birthday Saw will be heading to this year's Winter Music Conference in Miami and is set to hold a party to say thankyou to all their loyal fans. Satoshi himself will of course be jumping behind the decks and will be joined by label mates Hector Romero, Lexicon Avenue, Bush II Bush, Audiofly X and Guy Gerber. Just to remind everyone where he originates from, Tomiie San will be flying in E-Male, a special guest VJ, direct from Tokyo.
The Saw Recordings party will be held on Friday, March 24 at the Shelborne Hotel.