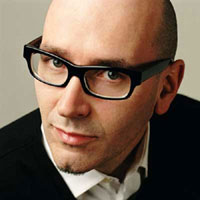 international news _ 17th February, 2006
New York Is Red Hot (Again) Says Electroclash King
Text by Jonty Skrufff (Skrufff.com)
Skrufff man-in-New York Larry Tee is to open a brand new club in Manhattan's Lower East Side next weekend and chatting to Skrufff this week declared that the City's once infamous club scene is finally back to its best.
"New York City is especially fabulous right now, like it hasn't been for years," Larry gushed, "It's truly back to the golden years as far as fun parties are concerned."
Citing events including Suzanne Bartch's new Tuesday weekly, Mike Nouveau's FUN hipster party and his own Distortion Disko at Duvet ('we're doing a thousand people every week) Larry was most enthused about his new club Bank (at Element) which he insists is going to be 'super-fabulous'.
"The club holds 700 people and the music is going to range from the new minimal house of Get Physical to the noisier sounds from Germany. If Misshapes, the other cool Saturday night party is The Mudd Club, then Element will be Studio 54," he continued, "And is a comparison to the best clubbing era in New York City really in order? Yes," he declared.
A fixture on New York's club scene ever since he arrived in the mid 80s with Atlanta pals Lady Bunny and Ru Paul, Larry was one of the leading lights of Michael Alig's infamous Club Kids era, more recently popularising the city's post house scene that he effectively named electroclash. However, it was his club kid days that Lady Bunny wrote about in her blog this week, in an illuminating piece about the gentrification of the downtown Village area known as the Meat Packing District.
"Stella McCartney's chic shop hosted a fashion week bash for PETA, for which I DJed. Since it's in the meat market, once the strip for trannie hookers, I felt quite at home walking to work, though it's now a cluster of chi-chi boites and shops," said Bunny.
"The dilapidated three story house in which I once cohabited with RuPaul, Larry Tee, Lahoma Van Zandt and Nelson Sullivan is now an upscale eatery," she continued, "Honey, if the yuppies dining there only knew about the Special K-induced homeless-rimming marathons that went down in that dump 10 years ago, they'd keep on walking!"
Larry's recollections were somewhat less specific though he agreed that their old neighbourhood has certainly changed.
"When we moved into the Meat Market, it was a hotspot for trannie prostitution and sex clubs and it was certainly not a place to put a McQueen or Stella McCartney shop. The local gals never gave us any problems though because I am sure they looked up to Bunny and Ru," he mused.
"When we moved out of the space, we painted a terrible primitive family portrait on the wall for fun, and he people who renovated it asked us if it was a Basquiat. At first we were going to laugh and say 'No' but then wisely thought to say. 'Yes, of course'. That's how you create an urban myth," he laughed.
Bank @ Element opens on Saturday February 18.