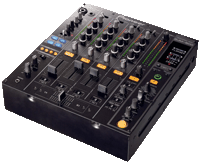 international news _ 6th February, 2006
Zabiela and Hawtin Fight It Out
Text by Nick Lawrence (HigherFrequency)
Whether you are a budding bedroom DJ or just a general technophile the latest announcement from Pioneer is sure to get your intimate regions quivering. The renowned sponsors of James "I'm a nerd and proud if it" Zabiela will this year be releasing two brand new mixers that they are hoping will appeal to the technically minded DJs out there.
For those with limited funds the creators of the DVJ-X1 are offering the DJM-400. This 2 channel mixer relies on the latest advances in digital technology to bring you an in-loop sampler as well a variety of effects. But if you're up on stage (or in your bedroom) with more than just a pair of turntables then 2 channels just isn't going to cut it.
However, there is no need to fear as the DJM-400 will be accompanied by its heavy hitting big brother, the DJM-800. This 4 channel monster can do pretty much anything, with reports that it can make a mighty fine espresso yet to be confirmed. Armed with 61 assignable midi control channel, harmonic mixing capabilities and a hi-end 96kHz/24bit A/D converter the latest machinery from Pioneer appears to be attempting to compete with Richie Hawtin's favourite company, Allen & Heath.
As always, the proof is in the pudding so we'll have to wait until the product's release to find out how it stacks up against the competition. But there is more riding on this release than mere financial success of course. With the industry's premiere music geeks, Zabiela and Hawtin, putting their names to the two opposing companies it becomes more importantly a matter of pride.
The DJM-400 and DJM-800 will be released in February of this year in both America and Japan, with Europe having to wait a little longer (April) to experience the latest in mixing technology.
Party Report: DE9 World Tour in Japan feat. Richie Hawtin and Magda @ Womb (22/12/2005)
Party Report: Fundacion feat Sasha & James Zabiela @ Womb, Tokyo (18/11/2005)