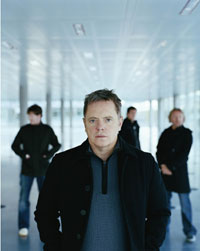 international news _ 6th February, 2006
New Order Star Slaughtered In New York
Text by Jonty Skrufff (Skrufff.com)
Leading Manhattan journalist Trish Romano lambasted New Order legend Peter Hook for spinning 'the worst set of cringe- inducing cheeseball techno I've ever heard' in the Village Voice this week, in a cruel review of a set he played in New York.
The highly influential writer blasted the iconic clubland character for daring to spin covers of New Order and Joy Division songs though conceded 'it was hard to hate on the guy'.
"He was having such a fantastic time, kicking his legs in the air and throwing his hands above his head, displaying more enthusiasm than I've ever seen from a DJ, save hard-house Seattle jock Donald Glaude," she admitted.
Ironically, Hook told Skrufff in 2001 that he had no interest in DJing, declaring "Bernard (Sumner) loves it and does it quite a bit, but I won't do it.
"I've had loads of offers to DJ and I did go through a phase of getting my mate to put the records on, but I can't be arsed, I'd rather go to clubs," he explained.
'Many of these records you hear in clubs are fucking awful too," he added, "It always amazes me that DJs can just get out there and play a few records, then walk away with thousands and thousands of pounds, for playing other people's music."
More recently, he admitted he's since changed his mind telling Westword two weeks ago "I must confess that over my career, I've actually downplayed the importance of DJs.
"It's such a different art form. Then all of a sudden you try it, and you think, 'Good God, these guys do work.' I used to be very cynical and very blas? about it. I can only apologize," he said.