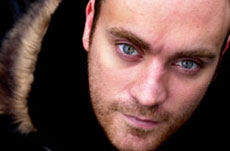 international news _ 6th February, 2006
Could Seb Fontaine's Lizard Rule the World?
Text by Jonty Skrufff (Skrufff.com)
Globetrotting DJ Seb Fontaine confessed this week that he enjoys an intimate relationship with his son's 2 year old pet leopard gecko Gazza that's become so close that he routinely treats the lizard as a human.
"I really feel that he and I have bonded," Seb told the Sunday Times, "I'm convinced that he looks happy to see me when I come into the room."
Seb also described how the reptile is so charismatic that even his dogs get jealous, and so ultra-intelligent that he regularly manages to escape from his cage, despite the fact it's locked.
"He loves to rest in the sunshine," Seb mused, "Probably thinking about philosophy and stuff."
Chatting to Skrufff this week, The Type chief revealed that the lizard is also 'a great listener' adding "he's fairly quiet and a deep thinker, but he isn't letting on what to do with the world and its problems quite yet. He's a 'what you see is what you get' kind of lizard; down to earth, dependable and scaly," he said.
Seb's revelations emerged on the same day that alternative guru David Icke also popped up in the UK press talking about lizards, specifically the 'reptilian cabal', a secret order of Western world leaders including George Bush and ex British PM Ted Heath, he believes are shape-changing lizards bent on enslaving the world.
"This is not prophecy, " the counter-culture icon told the Observer, "Once you realise the goal is an Orwellian centralised fascist state, a global version of Nazi Germany ruled by a world government, world central bank, world army, and a microchip population, what unfolds becomes extraordinarily easy to read," he pointed out.
Seb spins in Moscow (Club X111) this Friday (February 3) and Type @ Colours @ The Arches, Glasgow (Saturday 4) then is at Club Spartacus, Bulgaria on Friday 10 before returning to London for Type's 5th birthday at the Cross on Saturday March 11.
News: Seb Fontaine Savages 'Progressive' House (26/09/2005)