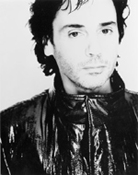 international news _ 26th December, 2006
Jean Michel Jarre's Sahara Night
Text by Jonty Skrufff (Skrufff.com)
French star Jean Michel Jarre staged a 15,000 capacity concert in the Sahara desert, Morocco last weekend, as part of his ongoing campaign to highlight water shortages and the growing problem of desertification.

"We want to make people more aware of just how precious water is and the critical need to look after what we have," the Oxygene star said in a statement before the gig.

"If everybody understood just how little water the earth has, or how many people are going without it - and dying as a result - or how much of it is being wasted, we might be able to find better ways of managing and sharing it."

Chatting to Skrufff two years ago, the electronic music pioneer discussed being a UN goodwill ambassador for 12 years and spoke extensively of his plans to perform in the desert, declaring 'I want to attract hype to the issue of fresh water, to make it the wave (trend) of the week, or the year.'

"The availability of fresh drinking water is a major problem worldwide. As we are talking, a child is dying every 10 seconds because of a lack of fresh water," he added, "There's only George Bush who can think that oil is more important than water, otherwise he would have invaded Canada instead of Iraq."

"I think music can certainly help raise consciousness because it attracts young people and hopefully we can bring attention as artists to ideas that might be abstract," he continued. "Musicians and artists can have a political role in this way."

He also offered poignant advice for producers hoping to emulate the success of his multi-million selling opus Oxygene, urging humility and a willingness to embrace struggle as the key character traits to nurture.

"They must believe in themselves and avoid following any fashion and also be aware that if they want to be an artist it's not going to be the easiest way for having a happy life," Jean-Michel advised.

"It's tough and it's difficult, yes, and rewarding sometimes and it can be a privilege but being an artist not an easy route for being happy. It's also important to never forget that you are just a filter from somebody up there, feeding you with inspiration, it's not coming from yourself. As long as you don't forget that, you can go with it," he said.