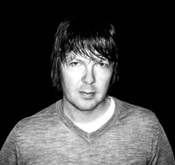 international news _ 25th December, 2006
John Digweed- Because He's Not Worth It
Text by Jonty Skrufff (Skrufff.com)
John Digweed chatted to Skrufff this week about his radical new Hoxton-style haircut and swore he's got no ambitions to snatch David Guetta's L'Oreal hair gel campaign.

"It's not something I would do, I don't think it's really me," the superstar progressive house DJ insisted, "David's a more commercial DJ than me and he reaching a wider audience with that kind of exposure was probably perfect for him."

If you've seen my haircut I'm sure you'll know that my image isn't very important" he continued when asked about his dress sense when performing.

"I think you have to feel comfortable, I haven't got to dress head to toe in Prada, I'm more comfortable in T shirt and jeans. I don't feel the need to be a style icon or anything like that."

His protestations, however, matched exactly those of David Guetta, who similarly claimed to prefer dressing down, months before signing up to L'Oreal's Because He's Worth It campaign.

"I'm not really into my image because I'm not very materialistic; my wife, who's a really funky girl, helps me out on that side," the F**K Me, I'm Famous promoter told Skrufff last year.

"Otherwise I would wear the same T shirt, jeans and sneakers all the time. I don't like the idea of spending time shopping and all that; I hate it," he added.

John Digweed claimed his own hair experiment happened by accident after he decided to grow out his neat crew-cut on a whim, revealing an unkempt tangled mop of curls.

"After I grew it out I had it straightened in America which worked for a little while then within a month it started going curly again," he revealed.

"I was then in Australia with five days off and I was jetlagged and bored out of my mind so I went into a hairdressers and said 'I want to straighten it, the last one didn't last that long' can you make it a bit more straighter?' So they straightened it and, er, . . . they definitely straightened it. More than I bargained for, let's put it that way," he laughed.

"And now I can't do anything about it until it grows out unless I shave my head and I'm not going to do that because Sasha's beaten me to it," said John.

John's decision to flaunt his (still full and luxurious) locks could disappoint US entrepreneur Howard Brauner, founder of New Jersey-based Bald Guyz, a company specializing in suncream, headwipes and moisturizing gels for shaved heads.

"People have always been treating bald guys like it's walking on eggshells," Mr Brauner told the Miami Herald this week, "We say embrace your baldness.''

John Digweed's Transitions 2 compilation is out on Renaissance on January 29.
Release : John Digweed / Transitions 2 (29/01/2007)
Party Report : Sasha and Digweed @ Family, Brisbane, Australia (04/11/2006)