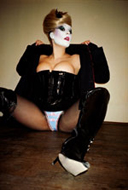 international news _ 20th December, 2006
Princess Superstar- (Almost) Perfect Life
Text by Jonty Skrufff (Skrufff.com)
Ministry Of Sound are releasing a bootleg version of Princess Superstar's 2005 club hit Perfect in the New Year, with the full approval of the New York electro queen.

"Someone did the mash-up, I'm not sure who, and then Ministry signed it," the Princess told Skrufff this week, "I had to do a little bit of a new verse and that's it; now they're ready to release it."

"It's been a very rocking year, " she continued, "And I am so excited for '07 with my Gigolo compilation coming out and this Mason vs. me track. And I'm also looking forward to falling in love," she revealed.

The nowadays drug free former party animal said she's also looking forward to an 'even better' (now that she's clean) non-messy Christmas with her family 'eating a lot, getting awesome presents and going to the movies' and said that since quitting she's also learning to moderate her moods.

"I am totally a perfectionist, but lately through yoga and meditation, I realize that you have to let go in order to achieve perfection. I am also working on being more tolerant," she said.

"I hate meanness and lack of integrity but it is equally important that I work on not having those qualities in myself," she added, and laughed when asked if she ever has a problem with people patronising her.

"Nobody dares to patronize me, are you kidding?" she roared, "I'd punch them. See how I have to work on being more tolerant?"

Princess Superstar versus Mason is out shortly on Ministry Of Sound.