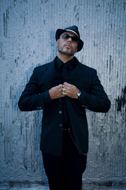 international news _ 20th December, 2006
Roger Sanchez' Sunglasses Secret
Text by Jonty Skrufff (Skrufff.com)
US house legend Roger Sanchez chatted to Skrufff this week about his upcoming oldies compilation for Choice and revealed that he always wear sunglasses in clubs to deter overzealous fans distracting him when he's DJing.

"I don't really do requests, if somebody hands me a piece of paper or they text something onto their phone and hold it up to me then if I'm going to play it I'll just nod my head," said Roger.

My pet hate is when people start to film me with their cameras. I wouldn't mind except for the fact that the bright light really shines in your eyes. That's one reason I wear sunglasses when I DJ, I hate when they do that," he said.

His comments are unlikely to appease British DJ Jacques Lu Cont (aka Stuart Price) who singled out DJ eyewear in an interview with Fabric several years ago.

"I don't think DJing is that cool, I don't like the image of the silver boxes and the hooded jacket and crappy sunglasses," the Madonna producer stormed, "I don't like the supposed glamour in DJing and I even hate the name! I'm a DJ? Don't think so," he claimed.

Fellow British big name DJ Dave Seaman also attacked the fashion accessory several years ago, with an angry tirade against Tiga's biggest hit Sunglasses At Night and the genre the track become synonymous with- electroclash

"It's basically a fashion trend that doesn't quite translate to a Saturday night out on the dance floor," Seaman told Skrufff in 2002.

"Within it there are definitely things that do work like the Felix Da Housecat re-mixes, but wearing sunglasses at night doesn't," he added.

Choice- Roger Sanchez is out shortly on Azuli.
Party Report : THIRST 2005 feat. ROGER SANCHEZ & STEVE LAWLER @ ageHa, TOKYO (15/04/2005)