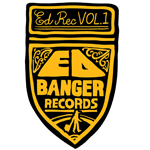 international news _ 13th December, 2006
Ed Banger's Justice For All
Text by Jonty Skrufff (Skrufff.com)
Uber-hot French label Ed Banger Records are releasing a 12 track digital 'greatest bits' compilation featuring tracks from Justice, Sebastian, Ufie and more, and two version's of Vicarious Bliss' still fresh sounding debut Theme From Viacarious Bliss.

Paris based Brit Andy (aka Vicarious Bliss) first encountered Ed Banger's boss Pedro Winter outside a sex shop in a side street in Soho 3 years ago in a serendipitous meeting that led to a record deal.

"I knew what he looked like (he still claims he's actually taller than me) so he wasn't hard to spot, especially as he was still in his 'trucker cap phase'," Andy told Skrufff earlier this year.

"Everything went really fast, Pedro was really still just setting the label up, the 'Never Be Alone' release was just starting to roll and it was totally obvious that something big was going to happen with Justice," he said.

Chatting to Skrufff soon after. Pedro explained his business philosophy which he fine-tuned transforming Daft Punk into global superstar DJs.

'I went to university and did three months of law school, then quit to go partying. I learned my business working day-to-day with Daft Punk. It was all "on the job training," he recalled.

Nowadays gaining plaudits off the back of Justice's equally meteoric success, he insisted comparisons are unwise.

"Sure there's easy comparisons with Daft Punk — there are two of them, they're French, they have weird names and I'm involved with them," he said.

"Every year the press comes up with a new Daft Punk. There are no new Daft Punks, though Justice are definitely sons of Daft Punk's era."

"With Justice, as soon as I met them I knew I would work with them. Their music is modern and dirty and I liked their energy immediately. I signed them within a week of our first meeting. The guys are smart and young — I knew they needed help but not that much help. I need to feel a band from the heart. I like real people and don't need a fake, shit band.

Ed Banger Records digital compilation is out on December 18.