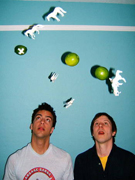 international news _ 8th December, 2006
Twice As Nice For Warp
Text by Nick Lawrence (HigherFrequency)
The label for IDM, Warp Records has added another name to its impressive roster of artists that boasts Squarepusher, Autechre, Aphex Twin and Maximo Park.

Joining this imposing list of names will be the Portland pairing of Matk Shirazi and Jason Buehler, known collectively as Nice Nice. The duo have been releasing since 2003 when their debut album "Chrome" was released on small Brooklyn indie label Temporary Residence Limited.

Earlier this year the newest Warp members released a collaborative album, charmingly title "Actual Fucking" with established outfit Cex, who have previously released on Kid 606's Tigerbeat6 label.

While no details have been announced for Nice Nice's Warp debut, you can expect to hear more from this noise loving twosome some time in the not to distant future.
Interview : Steve Beckett Email Interview (12/05/06)