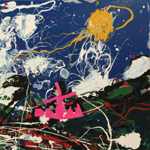 international news _ 8th December, 2006
James Holden - The MP3s Are Winning
Text by Nick Lawrence (HigherFrequency)
James Holden's long awaited "The Idiots Are Winning" which recently came out on physical media has just today been released in the digital realm, first on hrfq.com partially thanks to its GMT +9 positioning on the globe.

The 'collection' of tracks which has many Border Community fans discussing whether it is an album, EP or even compilation features ten tracks, some old, some new and even some that are very very very quiet.

To listen, buy or even just admire the artwork of Holden's "The Idiots Are Winning" click here.
Interview : James Holden Video Interview (05/02/2005)