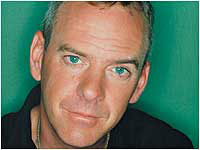 international news_4th December, 2004
Fatboy's Back
Fatboy Slim is back this week with his latest offering from his recent album Palookaville. Stormin' Norman currently having a couple of days rest after his UK tour and preparing for a whirlwind 4 date American is limbering up for another assault on the charts with 'Wonderful Night', a much more sedated and laid back track than 'Slash Dot Dash' it features Lateef from Blacklicious on vocals.

The CD release includes two remixes of the track by Fatboy himself, one a house version of the track, the second a full on rock interpretation. Probably not surprising given his tendancy on his recent tour to play the guitar live on stage as part of the show.

Additional remixes are delivered by Brazilian drum and bass star DJ Marky who Fatboy played with at the Big Beach Boutique event in Rio and hip hop heavyweight Chief Xcel who played with him at his recent London gigs.

Given the responsibility for continuing Fatboys reputation for mind blowing music videos is newcomer Jon Watts, and from the looks of it he's done a fine job. The music and the video are available for viewing on Fatboy's website.


Fatboy Slim Palookaville Tour @ Space Lab Yellow, Tokyo (23/09/2004)