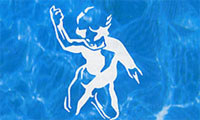 international news_1st December, 2004
Darren Emmerson Returns for Underwater 050!
Underwater Records, the label started as a hobby for then Underworld's Darren Emmerson has stepped up a gear in recent years and has announced details of it's 50th release, due to hit the shelves on the 24th January.

And what better way to celebrate it's 50th release than with an EP from the boss himself, his first production since May 2002. 'H20 050' is a 4 track monster, exactly what you'd expect from the Underwater crew a mish mash of beats and dance floor friendly grooves that will no doubt be rocking clubs all over the world for long after its release.

Darren Emerson "H20 050" EP
A1: "Chicago Mousse" / A2: "Beats In The Box"
B3: "Detroit Music People" / B4: "Saturday Night"

Also released at the same time are Underwater 1-9, the labels first 9 releases that were previously deleted. T-World "Anthem" (01), Eddie Wolf "My Base" (02), Short Fiction "Red Star" (03), Publiq Space "Promethis" (04), Cliff Hanger "Centre Court EP" (05), Ned Flanders "Life's Little Pleasures" (06), Cliff Hanger "That's How It Is" (07), House Honkys "Bell 1" (08) and Meeker "Save Me" (09) are all to be remastered and repackaged for late starting Underwater collectors.
Underwater Night feat. Mutiy & Paul Jackson / Party Report (03/07/2004)