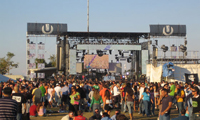 international news _ 25th August, 2006
Ultra Day In The Park
Text by Nick Lawrence (HigherFrequency)
America's answer to the heavy hitting festivals from Europe is about to roll into the old Big Apple. Ultra New York is due to open its gates to 5000 party hard Yanks on September 22 at the Rumsey Playfield in Central Park. This year's lineup is nicely filled out with John Digweed, Moby, 2ManyDJs, Benny Benassi and Junkie XL who was at the Miami WMC edition of Ultra earlier this year.

The Ultra New York event is a collaborative effort between the WMC's Ultra Music Festival and Ultra Records. Ultra Records is a large New York based record label that features releases from a long line of luminaries including Armin van Buuren, Sven Vath, Der Dritte Raum and was even responsible for releasing Sasha's "Bedrock" and "Expander EP" in the US.

This will be the New York event's second year, the inaugral event last year attracting thousands of New Yorkers to Central park for the music of Timo Maas, Paul Oakenfold and the Chemical Brothers.
Party Report : Miami Winter Music Conference 2006 Day 3 (25/03/2006)