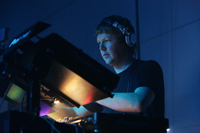 international news _ 25th August, 2006
Digweed's Six Year Kiss
Text by Nick Lawrence (HigherFrequency)
Bedrock boy John Digweed is set to celebrate a birthday within the first week of September this year. Respectfully avoiding all jokes about John's age, it is in actual fact 6 years since the birth of his radio show on Kiss100. The Transitions radio show has been not only showcasing the progressive pioneer's talents but also attempt to uncover fresh blood such as Japan's burgeoning star Osamu M who appeared alongside Diggers in November of last year.

Digweed's long running radio show is heard by millions of listeners round the world thanks to the magic of the internet and can be enjoyed through his site as well as via podcast. This popularity puts Transitions perhaps in second spot behind that other venerable DJ on that slightly more mainstream radio station.

Just a few months prior to this upcoming celebration, John put out a brand new mix CD with the same title as his radioshow, "Transitions". The disc featured music from Tigerskin, Michel de Hey and John himself, and was an attempt by Renaissance to re-create some of the glory from Sasha & Digweed's classic first mix CD "Renaissance- The Mix Collection vol. 1".
Release : John Digweed / Transitions (05/06/2006)
Party Report : Club Phazon - WOMB Mobile Project feat. Sasha & John Digweed (22/11/2005)
Interview : John Digweed Video Interview (20/11/2004)