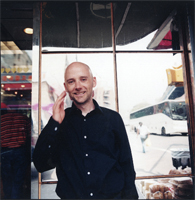 international news _ 23rd August, 2006
Moby's Greatest Guilty Secret
Text by Jonty Skrufff (Skrufff.com)
Moby's label Mute unveiled details of his upcoming Greatest Hits compilation this week, while the usually outspoken New Yorker was uncharacteristically reticent on his blog.

"I'm just working on a new song for the 'Moby Best Of' record that's supposed to come out in the autumn," he wrote on Moby.com, adding 'but I feel kind of dirty writing 'Moby Best of'. It seems egregiously immodest. But that's what the record's called. You see my dilemma."

In fact, the record, which comes out on November 6 is called 'Very Best Of Moby' and includes his early 90s hits Feeling So Real and Go as well as his more recent commercial smashes from Play and a brand new track, New York, New York,

"I can't tell you any details about the new song, but it's fun, at least in my opinion," Moby continued on his blog, adding 'maybe you'll hate it, I have no idea," while Mute again trumped him revealing the song features vocals by alternative icon Debbie Harry from Blondie. The duo recorded the track together over summer in Manhattan, said Mute.