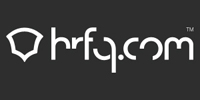 international news _ 22nd August, 2006
New Kid On The Digital Block
Text by Nick Lawrence (HigherFrequency)
hrfq.com is the latest and greatest digital music store to specialize in the most important music style of them all, dance music.

No sorting through classical, pop or country just to find the tunes youíre after. hrfq.com is strictly for electronic music and boasts a mind boggling amount of genres and sub genres you can search through with our lightning fast search engine, powered by Web 2.0 and Ajax technology.

Coupled with itís own inbuilt Flash based music player boasting almost instant response time, hrfq.com becomes the ultimate web application for searching, listening and downloading the freshest tracks.

All tracks are available as 320kbps or 192kbps mp3s and prices are listed in $US and Euros, which gives you maximum control over your purchases and a chance to play the exchange market to get the best deal. At launch the catalogue is already approaching the 10,000 track mark and with the majority of tracks going for $1.49 / 1.19 euros, price should be the last thing stopping you stocking up your collection.

Searching, listening and placing music in the cart doesnít even require you to log in. So check it out and browse the site, there is sure to be something you like. Whatís more hrfq.com believes that once you purchase a product, it is yours, full stop. No DRM stopping you from putting YOUR mp3s on any of YOUR computers or audio devices.

However, we do advocate full respect for the artists and their work. Therefore we do not condone any form of online file sharing and with possible legal ramifications thoroughly advise hrfq.com users against it.

hrfq.com is brought to you by the brilliant people behind www.higher-frequency.com a website you already know well.