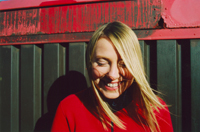 international news _ 21st August, 2006
Andrea Parker- I Still Hate Electroclash
Text by Jonty Skrufff (Skrufff.com)
Purist electro-techno UK star Andrea Parker chatted to Skrufff this week about her upcoming sponsored hike up Kenya's 5,500 metre high Mount Kilimanjaro and revealed that, despite her charitable inclinations, she remains fiercely unforgiving about electroclash.

"I absolutely hate electroclash with a passion, I can't stand it," she stormed, "I used to be a proper B girl back in the day with all the breaking crews and this electroclash nonsense has almost taken over."

"I'm in more of a purist electro scene, I don't like all the poppy electro at all, " Andrea explained, "Electro has always been so underground and that's been one of the main things I've always liked about it, there's not that many people into it, just small pockets around the world," she said.

The cheerfully outspoken South Londoner, however, was keen to correct a story from two years ago saying she wanted to thump Fischerspooner frontman Casey Spooner, and categorically denied telling DJ magazine she 'just wanted to punch his fucking eyes out'.

"I didn't actually say I'd punch his fucking eyes out," Andrea insisted, "I said I'd rather stick needles in my eyes than listen to that song Emerge."

Andrea will be climbing the 19,343 feet mountain Kilimanjaro this October, raising funds for disabled children's charity Get Kids Going.