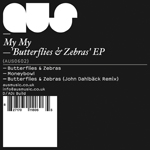 international news _ 18th August, 2006
John Dahlback Catches Butterflies
Text by Jonty Skrufff (Skrufff.com)
Swedish uber-producer John Dahlback, who's emerged in the last 12 months as one of the most prolific and talented producers in electro-house, has continued his run of form, on My My's new single Butterflies & Zebras, out next month on Aus Music.

The 20 year old star has ditched much of the Berlin trio's original parts and replaced them with his own electro-tinged synth stabs, delivering a minimal-ish DJ tool style track that will effortlessly cross genres, reflecting his regular production techniques.

"I love sitting in a studio and I do it from nine to five every day, just making new tracks and exploring new things. I don't want to be trapped inside a tech house box or a deep house box, I want to mix styles together," Dahlback told Skrufff last November.

"I think people who buy my records can be both house DJs and techno DJs, because most of my tracks are like cross over between those styles," he continued, "I take the approach that I'm doing stuff that I can play when I'm DJing; my thought is to make music for the DJs because house music isn't really listening music."

Butterflies & Zebras is out on Aus Music on September 4.