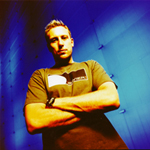 international news _ 8th August, 2006
European Techno Star Embraces Electro House
Text by Jonty Skrufff (Skrufff.com)
Slovenia's number 1 superstar DJ Umek has launched a new record label Astrodisco, named after the term he's started using for electro-house.

"Finally… Umek is ready to begin the Astrodisco ride and take you along for a journey of sexy electronic vibes." the press release for the label's first release 'I Am Ready' announces.

"The label is founded by Slovenian electro lovers Krizs, Bizzy, Dojaja and Umek who have been the first to kick off the electro sound movement with their series of extremely well accepted events with the same name."

The hugely popular DJ first distanced himself from techno in 2003 when he launched his debut artist album Neuro which he told Skrufff at the time was deliberately intended to broaden his appeal.

"The concept was to make tracks that wouldn't be right for the DJs who usually support my music. There are breakbeat and electro and the tracks are either too fast or too slow to be played in techno sets," Umek explained.

"Techno music is the music that I like the most and I feel it but then again I'm in the studio every day and I can make a techno track every day on average so what's the point in making 20 tracks a month each month? That's enough music for five EPs- the market would be flooded my with my techno tunes," he pointed out.

"I'm more inspired by finding new structures, this is why I'm also producing electro and some tech-house."

Umek's I Am Ready EP is out on September 6.