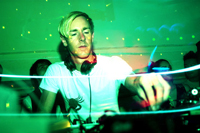 international news _ 3rd August, 2006
Richie Hawtin Gets Sliced
Text by Nick Lawrence (HigherFrequency)
Everyone's favourite minimalist Riche Hawtin will be appearing in the first edition of Slices' "Pioneers Of Electronic Music" documentary series. Slices, the electronic music DVD magazine, has gone an interviewed pretty much everyone that's ever been involved with Richie and put it together with footage from his 20-something year long career so that we can better understand the man behind the music.

Interviews on this look into techno past will include other techno pioneers such as Sven Vath, Kevin Saunderson and Richie's longtime business partner John Acquaviva as well as some words from family and friends including Richie's installation artist brother Matthew. Presumably Hawtin will himself have something to say as he is not afraid of the camera having including a video interview on his latest album "DE9:Transitions" as well as kindly talking to Higher Frequency in a two part video interview late last year.

Strangely ot mentioned in the list of names to appear on the doco is last year's DJ Mag no. 100 DJ, Magda. Magda and Richie travel relentlessly together and Magda is just about to release her own album "She's A Dancing Machine" that follows along the same lines as Richie's "DE9:Transitions". The Polish born, American raised and now Berlin based Magda has also just recently taken part control of a sub label of Hawtin's Minus called Items & Things so one can only assume that she will have a few words of wisdom for all the home viewers.
Party Report : DE9 WORLD TOUR IN JAPAN feat. RICHIE HAWTIN and MAGDA @ WOMB (22/12/2006)
Interview : Richie Hawtin Video Interview Part 01 (22/12/2005)
Interview : Richie Hawtin Video Interview Part 02 (22/12/2005)