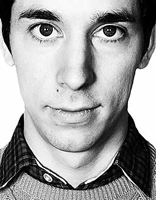 international news _ 1st August, 2006
Jacques Lu Cont Nominated For Best Female
Text by Nick Lawrence (HigherFrequency)
When you wade through the adverts on the MTV official site and you show a little persistence you will learn something other than that JCPenney is an excellent retailer and the Ladies Quattro is the highest quality razor available. Stuart Price, who you should already know as Jacques Lu Cont, Les Rythmes Digitales or Thin White Duke, has been nominated for Best Female Video in this years MTV Video Music Awards which are set to take place just a month from now.

Don't worry there was no life changing surgery involved, Stuart Price is actually eligible via proxy thanks to his production work on Madonna's recent album "Confessions On A Dancefloor". The single/video that is up for the auspicious award is 'Hung Up' which seems to be favourite for the VMA's with nominations in four more categories Best Dance Video, Video Of The Year, Best Pop Video and Best Choreography. Lu Cont is no stranger to awards though having taken out a Grammy in 2004 for a remix of No Doubt.

Despite his French sounding aliases, Price is actually a British boy born in Reading. He has been busy penning quite an impressive pop resume of late working not only with Madonna but also with New Order on their two songs 'Jetstream' and 'Guilt Is A Useless Emotion'. And as far as remixing goes Thin White Duke, an obvious ode to idol David Bowie, is ever busy supplying reinterpretations for the likes of Starsailor and their melodic 'Four To The Floor' and just last year Gwen Stefani's slightly irritating 'What You Waiting For?'.

For a full list of the VMA nominations including a Dance Music category that involves techno all-stars Shakira and Sean Paul please check out the MTV Official Site.
News : Madonna Urged To Get Back On Her High Horse (25/08/2005)
News : New Order Go Dancing With Jacques Lu Cont (14/02/2005)
News : Dance Is Dead Jaxx Backtrack (22/02/2005)