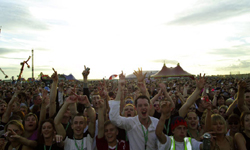 international news _ 1st August, 2006
Creamfields' World Domination
Text by Nick Lawrence (HigherFrequency)
As you may or may not already know, Creamfields is moving from its seven year home in Liverpool to a brand new location the Daresbury Estate in Halton. On top of this move the celebrated festival is also spreading its wings and yet again holding a similar party in the slightly more exotic Andalucia in Southern Spain.

The Andalucia edition of the massive festival is being held for the third year running and will take place on the 12th of August at the Playa de Vilaricos. Visitors can expect to be entertained by the latest tunes thanks to a lineup that includes Fischerspooner, Petshop Boys, !!!, Jeff Mills and French Outfit Superdiscount.

Over the ocean the original UK based event has an equally attractive selection of artists. The Prodigy and Paul van Dyk will be buddying up for the occasion as will rising stars Gnarls Barkley and crowd favourite Armin van Buuren. Impressively the Cream crew shows a dedication towards constantly updating lineups with the recent Poland Creamfields being headlined by an altogether different name of stars including Deep Dish, Dave Clarke, Kosheen and the Audio Bullys.

Creamfields Andalucia will be held on August 12 and Creamfields UK takes place two weeks later on August 26. For full lineups please visit the Cream Official Site.