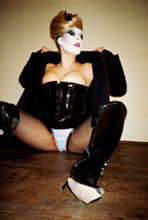 international news_5th August, 2005
Princess Superstar's Perfect Writer's Block
New York hip hop/ electro producer Princess Superstar produced her new concept album My Machine as a response to crippling writer's block, she told Skrufff this week.

"It was a very painful period in my life; a whole year of not being able to write, and hating music," she explained.

"It was strange, because it really coincided with me DJing a lot. All of a sudden I was a new DJ and I was traveling all over the world having a really good time, but at the same time I think I was almost mad that I was getting paid to put on everybody else's music. I cannot explain it, it's this weird thing in my head, but I thought: Why aren't I playing with my band?" said the Princess.

To overcome her difficulties she turned to her concept album ideas which she'd been thinking about for six years and in the process came up with what looks like becoming her biggest hit to date Perfect.

"I found that sometimes I have to force myself to sit down and write. A lot of people say they have to wait for the creative thing to hit them; well forget it, because I'd be working a day job right now if I was taking that approach," she laughed.

"I have to actually say to myself 'Right, from ten to one, you're going to write'. Even if it's shit, I'm going to just do it. I love this story that Nabokov, the writer, used to make his wife lock him in a room and he wasn't allowed to come out until he'd put a certain amount of pages under the door. So I adhere to that approach."
Nabokov.com
('One of the great novelists of the 20th cent., Nabokov was an extraordinarily imaginative writer, often experimenting with the form of the novel. Although his works are frequently obscure and puzzling,filled with grotesque incidents . . One of his best known works is Lolita . . .')

owl.english.purdue.edu
(Overcoming writer's block))

soulseduction.com
(Princess Superstar soundclips here)