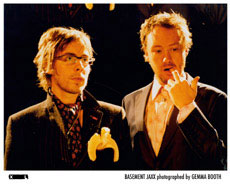 international news_4th August, 2005
Basement Jaxx' Anti-Terror Blast
Felix Buxton from Basement Jaxx narrowly escaped London's suicide bombs, he told Skrufff this week, though revealed he'd been pleasantly surprised by people's reactions following the explosions.

"When the bombs were going off I was trying to get a train at Kings Cross and I actually tried to find a way past the police cordon to get into the station, because no one had told us what was going on," said Felix.

"And then I walked for an hour and a half to get to where I wanted to go but it was amazing because I'd never seen London so friendly. Nobody knew if anybody had been killed at that point and there were loads of people out in the streets, and everyone was talking to each other. It really did feel like that kind of wartime spirit. My dad always says that he's never seen people as happy and friendly and together as they were in the war. I can see that. It unifies everyone with a common enemy, I suppose."

"I' not sure where I was last week when the other attack happened, I think I was in the studio, but just a couple of miles away from Stockwell," he continued.

"But I was also in Brixton a few years ago when the nail bomb went off there too, so I'm probably less shocked by it," he added (neo-Nazi David Copeland exploded a nail bomb on Electric Avenue in 1999).

Despite being sanguine about the apparent concentration of terrorists in his South London neighbourhood, Felix admitted he's no longer so chilled about general street crime in the area, after he was robbed several years ago in a late night attack.

"Being mugged was a bit of a shock because it happened right outside my house and I think I was probably overconfident - always being out late at night and saying 'Whatever they say about London and Brixton, it's all rubbish'," he admitted.

"But it did shake me up and scare me and it took me a few months to get over it and it's still had an effect that's stayed with me. Maybe it's because I'm getting older but when I see crackheads leering around and waiting to prey on some poor tourist, they really anger me now, whereas before I didn't really care."