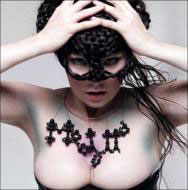 international news_24th August, 2004
Bjork New Album
Icelands biggest export Bjork is all set to release her first album in 3 years at the end of this month when Medulla hits the shelves on the 30th August. Produced with long time collaborator Mark Bell the 14 track album is made almost entirely of vocals from a list of contributors that include Rhazel, (formerly The Roots), Japanese beat box Dokaka, Faith No More singer Mike Patton, Inuit throat singer Tagaq and the Icelandic and London Choirs.
She has made no plans to tour the album once released and instead plans to continue studio work. "Every album I've done, the minute that it's done, I feel really lubricated and, like, 'Wow, now I can write an album in five minutes,'" she says. "And I just want to find out if that's just a fantasy or if it's true." Bjork said in an interview with Rolling Stone Magazine.
The Icelandic singer performed one of the tracks off her new album, Oceania, a track she wrote specially for the Olympics at the opening ceremony of the games last week in Athens and in front of an estimated 4.8 Billion world wide spectators.
To watch the video of her Olympic games track, Oceania and preview all the tracks on her new album check out her website
Track-listing
01 : Pleasure Is All Mine
02 : Show Me Forgiveness
03 : Where Is The Line
04 : Vokuro
05 : Oll Birtan
06 : Who Is It
07 : Submarine
08 : Desired Constellation
09 : Oceania
10 : Sonnets / Unrealities XI
11 : Ancestors
12 : Mouth's Cradle
13 : Miovikudags
14 : riumph Of A Heart
15 : Komio (japan only)