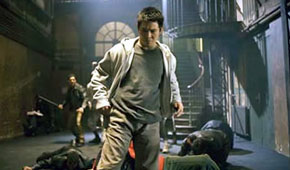 international news_23rd August, 2004
Massive Attack Soundtrack
Bristol Legends, the mighty Massive Attack have composed the soundtrack for the new movie by French Director Luc Besson, famous for films such as Leon and Nikita. The new film, 'Danny the Dog' is an action movie featuring Jet Li, Morgan Freeman and Bob Hoskins.
All of the soundtrack for the film is material composed by Massive Attack especially for the production and is their first piece of work since the 2003 release, 100th Window.
The soundtrack will be released in France on the 11th October to coincide with the premiere of the film but Japanese fans will have the chance to gets their hands on a copy a few days earlier on 6th October.
For more details on the film go to www.themoviebox.net
Track-listing
01 : OPENING TITLE
02 : ATTA' BOY
03 : P IS FOR PIANO
04 : SIMPLE RULES
05 : POLAROID GIRL
06 : SAM'S TUNES
07 : ONE THOUGUT AT A TIME
08 : CONFUSED IMAGES
09 : RED LIGHT MEANS GO
10 : COLLAR STAYS ON
11 : YOU'VE NEVER HAD A DREAM
12 : RIGHT WAY TO HOLD A SPOON
13 : EVERYBODY'S GOT A FAMILY
14 : TWO ROCKS AND A CUP OF WATER
15 : SWEET IS GOOD
16 : MONTAGE
17 : EVERYTHING ABOUT YOU IS NEW
18 : THE DOG OBEYS
19 : DANNY THE DOG
20 : I AM HOME
21 : THE ACADEMY