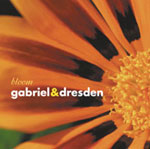 international news_20th August, 2004
Gabriel and Dresden Bloom
Gabriel and Dresden. Heard of them? Well they're established producers that have done remix work for some of pop's most prolific icons including Annie Lennox, Jewl and even Britney Spears and Madonna.
But don't let that put you off, by all accounts their debut album is all set to change the progressive house scene just like Northern Exposure and the Global Underground series did. Quite a lot to live up to I think you'll agree, so why are the duo so why are two producers from America creating so much hype?
Well, collaborations with Dido and Junkie XL are always a good start and with much of this new album coming from their back catalogue, (including 'Lament' and 'Dub Horizon'), along with some new gems freshly recorded for their debut release."
Those in the know have already been raving about them (and with them) for quite some time and, although this is only their debut album, we're sure you're going to hear much more of these two producers in the next few months.
Bloom is out on the 7th of September on Nettwork Records as a double mix CD
CD 1:
1. Gabriel & Dresden - Arcadia
2. Gabriel & Dresden - Serendipity
3. Gabriel & Dresden - Lament
4. Andain - Here Is The House
5. Michael Burns - Forwards
6. Sarah McLachlan - World On Fire (Junkie XL Club Mix)
7. Audioholics - External Key
8. Voyager - Someone Else
9. Gabriel & Dresden - Dub Horizon
10. Ferenc - Cronch
11. Guy Gerber - Stoppage Time

CD 2:
1. Pass Into Silence - Voices
2. Elevation + Gabriel & Dresden - Athena
3. Lili Haydn - Anything (Gabriel & Dresden Code 313 Dub)
4. (RND) - Nova Santori (Josh Gabriel Mix)
5. Dido - Don't Leave Home (Gabriel & Dresden Mix)
6. Bigtop - Sub
7. Above & Beyond - No One On Earth (Gabriel & Dresden Club Mix)
8. Josh Gabriel - Alive
9. Josh Gabriel - Switch
10. Push - Electric Eclipse
11. Motorcycle - Imagination (Acoustic Version)