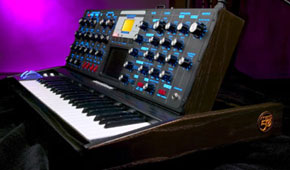 international news_16th August, 2004
A Tribute to Moog
Stereolab, The Neptunes, Devo, Meat Beat Manifesto, Tortoise, DJ Spooky, The Cure, Money Mark, Luke Vibert, 33 and The Album Leaf are amongst an array of artists all contributing new tracks to the sound track of a documentary that is being made by filmmaker Hans Fjellestad about Robert Moog, the inventor of the Moog Synthesizer.
Featuring interviews with a diverse range of artists whose career have been shaped using instruments like the Moog, DJ Spooky and Mix Master Mike are amongst those who appear on the documentary. Invented in the 60's the instrument has become a foundation of modern electronic music appearing on the first ever synthesizer only record, 'Switched on Bach' by Wendy Carlos.
Released as part of the revolutionary instruments 50th anniversary celebrations the album, due to be released on the 14th of September will precede the documentary, due to be released later this year.
Tracklist
"Abomination" 33
"Variation One" Stereolab
"Bob's Funk" The Moog Cookbook
"Unavailable Memory" Meat Beat Manifesto
"Beautiful Love" Tortoise
"Nanobot Highway" Money Mark
"I am a Spaceman" Charlie Clouser
"You Moog Me" Jean-Jacques Perrey and Luke Vibert
"Sqeeble" Plastiq Phantom
"The Sentinel" Psilonaut
"When Bernie Speaks" Bernie Worrell and Bootsy Collins
"Realistic Source" Bostich
"Endless Horizon (I Love Bob mix)" Electric Skychurch
"Micro Melodies" The Album Leaf
"You Have Been Selected" Pete DeVriese
"Mixed Waste 4.2" Baiyon
"Another Year Away" Roger O'Donnell