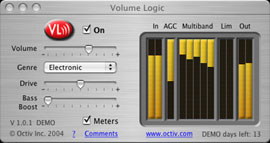 international news_10th August, 2004
I-tunes Volume Logic
Octiv, the software company that's received widespread acclaim for its I tunes Volume Logic itunes digital remastering plug-in has announced plans to launch the Japanese version of its program with the help of Japanese audio/video equipment provider, Heavy Moon.
The plug in which has been rated as one of the top 10 ipod accessories by magazines, such as MacWorld and MacAddict, is the first product available for Apple's computer music player that's fast becoming the most popular playback software on both windows and Macintosh platforms.
Digitally remastering the audio tracks played through the player, the software automatically adjusts the volume dynamics and spectral balancing resulting in the audio sounding like a professionally mastered CD from a regular mp3 file. A 5 band dynamics processor examines and adjusts the audio thousands of times every seconds raising low levels and controlling high signals throughout.
As the number of music fans switching over to computer based playback of their favourite audio instead of Hifi systems this is likely to be the first of many software-based solutions to enhance computer audio.
So give it a try, the software is available for a 2-week trial after which users can choose to purchase the product if they're satisfied with the results.