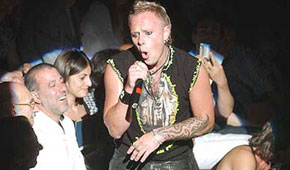 international news_4th August, 2004
Clever Brains Fryin
Keith Flint from The Prodigy is taking centre stage again recently but this time it's with his 'sideline' group, Clever Brains Fryin. The band made their debut performance 2 weeks ago at Donatella Versace's fashion show in Milan, where Keith reportedly caused a bit of a frenzy by simulating oral sex with one of the audience sat in the front row and licking the face of a woman. They were back last weekend to make their debut UK performance at the Global Gathering event where they ripped up the stage with their mish mash of electro's coupled with the expected tough breakbeat.
The band who have been practicing together for just over a year now comprise of turntablist DJ Jason Laid Back who provides the musical back drop, MC Bad Manner and MC Sir Real, a female vocalist Claire Cherequi and Keith Flint all providing vocals over the tracks.
For fans desperate to hear what all the fuss is about the new sound of Clever Brains Frying can be downloaded from the Global Gathering website and The Prodigy website. A different track is available on each of the sites for stream or download.