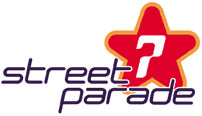 international news_1st August, 2004
Zurich Street Parade
Residents of the Swiss capital are getting ready for the biggest dance music party in the country's calender next weekend as the citys' Zurich Street Festival gets under way. The main event will be the 2.4 km long parade that takes place on the Saturday afternoon (7th August) but action will be taking place all over the city that weekend with festival events being held at clubs all over the city.
With predictions for a massive influx of Europeans ravers desperate for a replacement to this years Berlin Love Parade the city is bracing itself for a packed weekend which will see performances from an array of international stars such as The Orb (live), Richie Hawtin, James Holden, Tiga, Maurio Picotto and The Plump DJ's, alongside local favourites.
For a taste of what's going on you can listen to the official radio station of the parade that will broadcast until after the event with broadcasts from the festival.
Richie Hawtin Interview in Tokyo (2004/06/26)
Minimize To Maximize Tour feat. Richie Hawtin @ WOMB, Tokyo / Part Report (2004/06/26)
Mauro Picotto "Meganite" Release Info (2004/07/26)