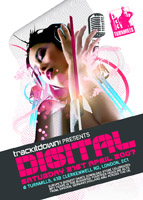 international news _ 24th April, 2007
TrackItdown's Final Vinyl Solution (Turnmills- April 21)
Text by Jonty Skrufff (Skrufff.com)
Thriving digital download operation Trackitdown.net prepared to celebrate their third birthday with a big party Turnmillls this week (April 21st) eaturing a line-up based on artists whose music is available on their site. The London based independent outfit have expanded dramatically since launching in 2004 and are currently releasing over 3,000 new tracks a week.

"The bigger we become the more complicated things can get but the vision for today remains to keep it simple and to keep tracking down great music and happy customers," said TID boss Nolan Shadbolt, "We're really trying to focus on taking the pain out of searching for new music by directing our visitors to the content that is applicable to them."

The latest site incarnation recommends tracks to buyers based on their previous purchases and favourite labels (so we're like a digital 'guy behind the counter') Nolan points out, adding another function that was once the exclusive reserve of 'tastemaker' shop assistants in the vinyl emporiums of old.

"The market place took a little longer to develop than I had imagined but most labels are now ditching vinyl for good as their digital income has now eradicated the need for physical product," Nolan pointed out.

"There are still a few diehard vinyl fans left who like to complain that they don't get the same 'warm' sound and satisfying smell of a 12" from digital downloads. Unfortunately for the independent record shops, those people are now a very small minority," he said.

Nolan admitted they're starting to see some rewards from the business though stressed 'I don't think we will be making the Times wealthiest 100 this year. They say the first million is the hardest to make, they were not joking!'

"We both have flashy BMWs although I think Ed's (TrackitDown co-founder Ed Real) was more of a premature mid-life crisis purchase than as a gauge of our success," he laughed.

Ed admitted to being grumpy on occasion ('I'm still DJing all over the UK and beyond each weekend so always knackered, which means it can be sometimes hard hearing other people's point of view and pointed out their lifestyle remains intense).

"Rather than being owned by bigger companies like our competitors we've started from scratch. This is an amazing feeling when things are going well but when stuff doesn't work then our position can feel very vulnerable and that's a real test of nerve," he admitted.

Particularly when we're now responsible for the livelihood of a growing team who are looking to you when the shit hits the fan! Nolan and I are perfectionists ans we've had to learn how to keep pushing through and fight the urge to cut and run and we're really proud of where we're at so bring on the next three years,' he said.
News: Skrufff-E Celebrates 5 Years (13/06/2006)