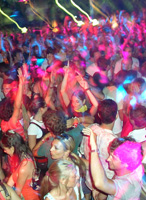 international news _ 4th April, 2007
Azuli Get Lost In Space
Text by Jonty Skrufff (Skrufff.com)
UK dance label Azuli are moving their upcoming season of Ibiza parties from El Divino to Space, they announced this week, taking over Space's glass roofed Terrace from Friday July 6.

"We've always had a special relationship with the island and when you talk about Ibiza clubs, Space is the first place you think of. It isn't just one of the biggest clubs on the island; it's an internationally renowned venue that commands respect the world over. For us at Azuli to be part of that is very exciting, and something we're deeply honoured about." Azuli head honcho Dave Piccioni gushed.

"We will still be pushing the most exciting electronic music and we're still going to be putting on an amazing spectacle for each and every party."

"As a label we've always managed to stay true to the sound of what's happening right now in clubs, as the last two seasons of parties have shown," Dave continued. "In London, around the UK and beyond we've had some great parties and we want to make Ibiza 2007 the best yet."

The high profile gigs represent another major milestone for the veteran record business mogul who in the mid 80s walked away from becoming one of dance culture's first superstar DJ because he feared DJing made him feel too insecure.

"If people don't like you, you don't get work, it doesn't matter how good you are and I didn't liked that scenario," Dave told Skrufff in 2005.

"Most DJs, like actors, are insecure people because it involves the public liking you and if they stop liking you, you suddenly can't pay your rent."

More recently he feared becoming seriously ill after developing an allergic reaction to jellyfish stings which he received swimming off Ibiza's hippy hangout Beniras Beach, in an incident he admitted left him 'f**king scared'.

"I checked out my symptoms on the internet and was really worried because I found out that these problems can continue for years and keep coming back," he said.

"The rash was in blotches all over my body. I couldn't sleep and for about 36 hours I didn't get more than an hour's sleep at a time," he said.

"I had to go and stand in the swimming pool every two or three hours throughout the night as it was the only thing that could cool me down." (in the event, he fully recovered).
News: Future Sound Of The Dance Underground (01/02/2007)