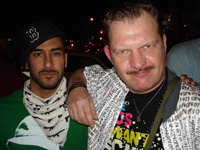 international news _ 2nd April, 2007
Miami Nice!
Text by Jonty Skrufff (Skrufff.com)
Skrufff contributors Princess Superstar and Judge Jules returned from Miami this week and both agreed that this year's Winter Music Conference was genuinely exceptional.

"For some reason this year in Miami rocked," Princess Superstar told Skrufff, "It was the first time in years that Miami was actually fun, I had a blast."

Judge Jules concurred, saying "I did four gigs, and apart from that acted like an Englishman abroad for the first time- ie I got drunk morning, noon and night."

"Three out of the four events were superb and having missed out on Miami last year I'm in love with the place again, especially daytime events," he said.

Dutch electro don Joost Van Belllen also agreed this year's event was the best in years with highpoints including 'getting wasted with Al Mstrkrft, drinking half a bottle of Jagermeister with Hell and DJing at Tommy Lee's Rokbar', though admitted he had one or two low points.

"I lost my phone, my camera and my flight," he laughed, "And the plot."

Joost singled out Larry Tee's Licky (remixed by Herve) as one of the conference's biggest hits, with Homotronic's 'You Look Like A Gay' being the biggest talking point (the track namechecks Richie Hawtin, Hell and Derrick May amongst others). He also said drunken college students were conspicuous by their absence.

"Weirdly enough I saw hardly any spring-breakers, though there were lots of nip and tuck meets Fire Island people, but hey, that's half the fun," he said.

"And the cops were out in force too. One early evening, Collins Avenue looked like a 70s disaster movie, with hundreds of police cars, ambulances, the Fire Brigade milling about and girls on stretchers completely out of it, and one guy naked, screaming on the street with cops around him, it was great."

"There was too much wind for the killer bees," Joost added, "But killer boobs were all over though; and fake ass padding- furniture."

Skrufff' biblical scholar Jorge Jaramillo also enjoyed returning to his home town telling Skrufff 'it went surprisingly well, I had one of my best sets ever at the Subliminal sessions at Space,' though disagreed partially with Joost's perception.

"There was still a lot of spring breakers drunk off their asses and not much business going on," said Jorge, "And though I saw a couple of confrontations with the American steroid muscle-heads harassing locals, the thug bouncers chilled out a bit."

He also noted a greater hip hop presence than before and suggested rap could even sideline house at future conferences, though the Subliminal star, a keen student of the Bible and End Time philosophy, also cautioned that yet more signs of impending doom could scupper future events altogether.

"Iran is so ready to wipe Israel of the face of the map," Jorge explained, "While a scientist said recently that he discovered the bones of Jesus (Satan is scared to death). This further explains how Satan is trying to make Jesus into myth."
News: Winner's Circle At The IDMA (29/03/2007)