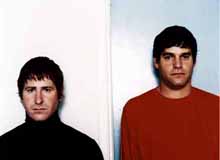 international news _ 25th April, 2006
Ableton Give Gabriel & Dresden a Working Over
Text by Nick Lawrence (HigherFrequency)
Riding high off the success of this year's Remix Hotel events at the Miami Winter Music Conference, Remix magazine have joined forces with the people at Ableton to offer you a multitude of prizes. The first prize on offer is an Apple 30GB iPod, Ableton Live 5 software (a free upgrade to 6 for those who already own a copy), a signed copy of Gabriel & Dresden's debut artist album, VIP tickets to a Gabriel & Dresden show and a one-year subscription (or renewal) to Remix magazine. Second prize is Ableton Live 5 software, a signed copy of the album and a one-year magazine subscription.

But like all good things there is a catch, you have to do something for them. What you need to do is download the MP3 of Gabriel & Dresden's recent single 'Tracking Treasure Down' from the Ableton website and getting cracking on a remix.

The remix competition is being judged by, you guessed it, Gabriel & Dresden. The San Francisco based duo just this year released their debut album, "Gabriel & Dresden", on their very own label, Organized Nature after working on productions and remix efforts of their own for the past few years. The progressive pair first gained widespread recognition back in 2002 when their single, 'Lament', was released on Satoshi Tomiie's Saw Recordings.

The competition closes on May 15 with the winners being announced in the first week of June.
Ableton Official Site
Remix Magazine Official Site
Gabriel & Dresden Official Site