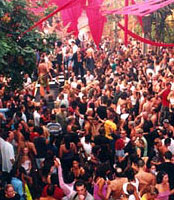 international news _ 21st April, 2006
Amnesia Destroys Forty Years of Memories
Text by Nick Lawrence (HigherFrequency)
Detroit techno's messiah, Juan Atkins, recently entered his mid-forties while last year Frankie Knuckles, the man who gave birth to house, turned 50 last year. As we enter 2006 there is yet another pinnacle of the industry about to find out what it is like to be middle-aged. The problem is, this dance music legend can't go out and buy a red convertible to help deal with the shock. That's because celebrating 40 years of life this year will be Amnesia, the flagship of clubbing in Ibiza.

Since its birth in 1976 the club has passed through the hands of multiple owners and had various unexpected closings. Despite this, after 40 years Amnesia still remains one of the most popular destinations for clubbers heading to the island paradise largely thanks to the likes of Paul Van Dyk, Dj Tiesto and Dannyt Tenaglia who have all graced Amnesia's decks more than once over the years.

Amnesia's 41st year will kick of on Saturday June 17th when resident DJ Mar T will be joined by DJ Oliver, who is most famous for his marathon sets on Wednesdays at the La Troya Asesina parties. The following Monday Sven Vath, along with Chilean cohort Ricardo Villalobos, will kick off another summer season of Cocoon.