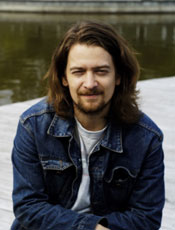 international news _ 18th April, 2006
Norwegian Dance Star Lashes London
Text by Jonty Skrufff (Skrufff.com)
Lindstrom collaborator Prins Thomas appeared in Time Out this week chatting about his increasingly glorious international career though responded ambiguously when asked whether Norwegian clubbers reciprocated the enthusiasm he receives when DJing in London.

"We envy that you have loads of record stores and clubs and more going on in general," he revealed, "but at the same time people are happy with the variety we have here, and that our clubs are not so drug-driven."

His views contradicted those of fellow Norwegian cleancut producer Erlend Oye, who moved to England in the late 90s and told Skrufff in an interview several years ago that he found it increasingly difficult to go back.

"It's the strangest feeling coming home after you've been away for a long time. You take the bus into town alone then before stepping off the bus you start seeing the faces of people you know, walking down the street. And you think 'they're still walking here, I can go at any particular point and they'll be walking here every day, from A to B from B to A'," he said,

"Norway's like Manchester, a lot of people move away from there. Could Morissey move back to Manchester? Not really. Just imagine Morissey getting off the train at Piccadilly in Manchester, walking into town and stopping off for a newspaper or magazine. How weird would that be? But he must do it somewhere," said Erlend.

Scandinavian producer Cari Lekebusch chatted to Skrufff recently about the nightlife atmosphere of relatively drug free Stockholm and pointed out that many Swedes end up becoming 'really stupidly drunk and puking all over the streets.'

"I know some places in the UK are like that too, I guess it's a Scandinavian and British thing to drink a lot of alcohol and just get messy," he added "You don't see people do that in most other countries but the drinking culture in Scandinavia and England is quite similar. It's messy."