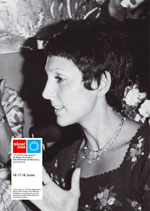 international news _ 14th April, 2006
The Return of The Spanish Armada
Text by Nick Lawrence (HigherFrequency)
The full lineup for this year's Sonar festival in Barcelona, which will be the thirteenth so far, has finally been announced. The three day event features countless acts from world renowned DJs and live acts as well as showcases from various companies. Main attractions at the festivities taking place on June 15, 16 and 17 will be Jeff Mills, Richie Hawtin vs. Ricardo Villalobos, the MFA, Miss Kittin, Tiga, DJ Krush, Dave Clarke and Nightmares on Wax.

There will be two specific themes running at the festival, the first of which is designed to honour Black music. Jazz, hip hop, reggae, techno, funk and jungle will all be represented. In addition to this there will be a Japanese music theme which will be championed by Satoshi Tomiie, Otomo Yoshihide & Sachiko M and Tujiko Noriko just to name a few. This Japanese connection spreads further than simply featuring Japanese artists, with the Sonar Tokyo event being confirmed for October 2006 after experiencing a year long absence.

Last year in Barcelona Miss Kittin recorded her performance and later released it as a live CD, despite experiencing technical difficulties part way through the set. With this release, in addition to many years of memorable events since 1997, the Sonar festival has gained much international acclaim.