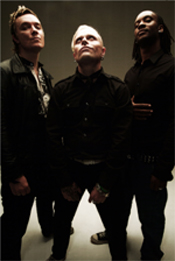 international news _ 11th April, 2006
The Prodigy Headline Creamfields 2006
Text by Jonty Skrufff (Skrufff.com)
Creamfields confirmed this week that The Prodigy will be the star attraction at this year's UK event, which takes place on August bank holiday (August 26) at their new site in the Daresbury estate in Cheshire.

The hugely popular band will be playing alongside the likes of Goldfrapp, Paul Van Dyk, Tiesto, and Ferry Corsten, which could lead to interesting backstage shenanigans, given Prodigy mainman Liam Howlett's well known antipathy towards mainstream dance culture.

"The dance scene in particular has always been quite snobby against us," Howlett told the Guardian in an interview in 2004, adding he was 'into the idea of creating an army against the DJs'.

"That kind of Ibiza music, that shit that Pete Tong plays, I hate that shit," he continued, " I sound like my dad, but it's fucking music by numbers. The lack of imagination does my brain in."

Speaking to the (now defunct) Face magazine in 2002 he was even more incendiary, declaring 'I'd like to bomb Ibiza'.

"I know people can dance to what we do, but it doesn't feel like dance music any more. Our music is not as throwaway as dance music. I f++king hate all that."

Creamfields takes place on Saturday 26th August at Daresbury, Halton (Subject to licence), 3pm - 6am, Capacity: 45,000 Tickets: 54.00+BF On Sale Now.